Places to visit in Mallorca
ONA Hotels
28/09/2023
If you are looking for a place full of sun, sea and culture for your next holiday, Mallorca is the perfect destination. The island is a true paradise on earth, with an impressive diversity of landscapes and attractions to explore. There are many
things to see and visit in Mallorca
at any time of the year. Discover them below!
What to visit in Mallorca?
Palma de Mallorca
One of the places to visit in Mallorca is undoubtedly Palma de Mallorca, the capital of the island. It begins with the majestic
Cathedral of Santa María
, known as La Seu, which rises above the port and captivates with its imposing Gothic architecture. Not far away, you can stroll through the narrow streets of the
old town
, full of history and charm. The
Royal Palace of La Almudaina
is another unmissable point of interest, an Arab fortress converted into a royal palace. And if you are a lover of contemporary art, then the
Es Baluard Museum
is your place.
But Palma not only shines for its historical monuments, it also offers a
vibrant nightlife
with numerous bars and restaurants where you can try delicious Mallorcan cuisine. In addition,
urban beaches
such as Can Pere Antoni beach or Cala Major are perfect for a refreshing dip without leaving the center. Without a doubt, Palma is one of the best places to visit in Mallorca.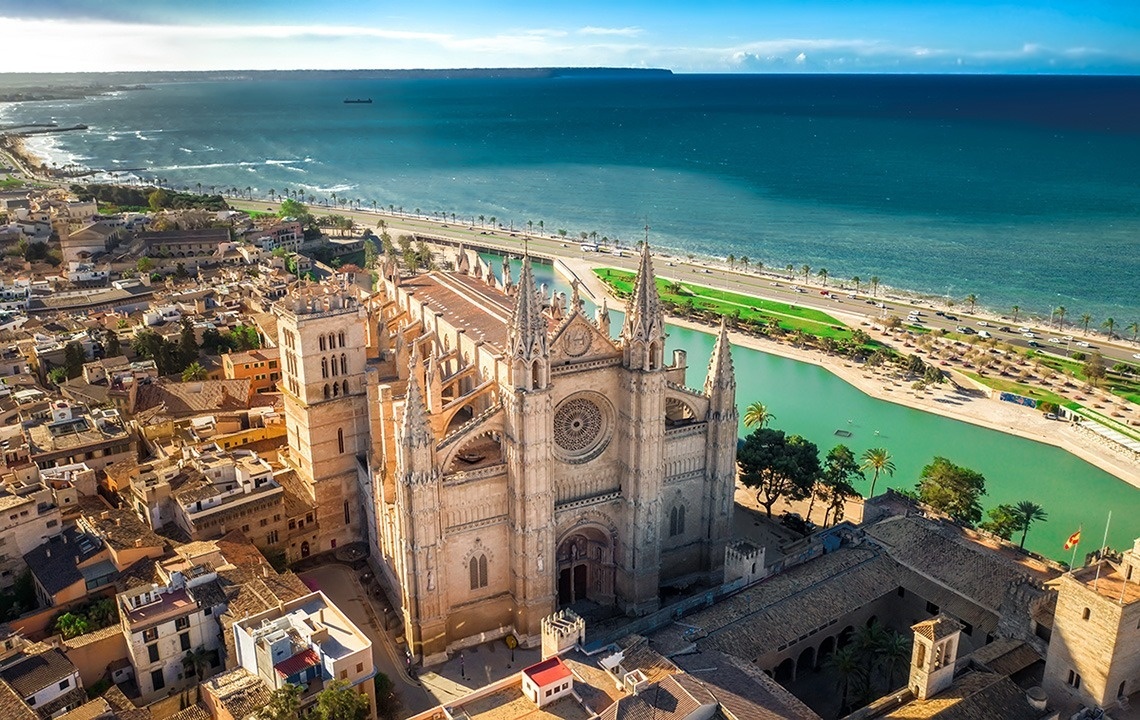 Saint Mary's Cathedral
Serra de Tramuntana and its small towns
The Serra de Tramuntana is a natural jewel that extends along the northwest coast of Mallorca. This mountain range, declared
a World Heritage Site
by UNESCO, is a true
paradise for hiking and nature lovers
. Here you will find scenic routes that will take you through emerald green valleys, dense forests and high peaks from where you can enjoy breathtaking panoramic views.
But the beauty of the Serra de Tramuntana is not limited to its majestic natural landscape. The
small towns
that dot this region are equally charming.
Valldemossa, Deià and Fornalutx
are just a few examples of these picturesque towns, each with its own unique character. Walking through its cobbled streets, admiring the stone houses with flowers in the windows and enjoying the peaceful atmosphere is like traveling back in time. Don't forget to try the local cuisine in the restaurants and wineries that you will find in each town.
Alcúdia
If you are wondering what to visit in Mallorca, you cannot miss Alcúdia. This charming
medieval town
, located on the north coast of Mallorca, is known for its
impressive wall
and narrow cobblestone streets that give way to rich history and culture. Here you can enjoy a trip back in time as you stroll through the old town, visit the local market or explore the Roman ruins of the ancient city of Pollentia.
But Alcúdia is not only about history and culture. It also offers
some of the best beaches in Mallorca
. Alcúdia Beach, with its crystal clear waters and white sand, is perfect for families and those looking to relax in the sun. If you are more adventurous, you can try water sports such as windsurfing or kitesurfing.
Caves of Drach
The Cuevas del Drach, located on the east coast of Mallorca, are a must-see for any tourist. This impressive
underground cave
system spans more than 2 kilometers and is home to one of the largest underground lakes in the world,
Lake Martel
.
As you explore the caves, you'll marvel at the incredible
variety of rock formations
, from stalactites hanging from the ceiling to stalagmites sprouting from the ground. But what really sets the Cuevas del Drach apart is the
live classical concert
that takes place daily in the underground lake. Imagine floating on a boat while listening to beautiful classical music echoing through the dimly lit cavern.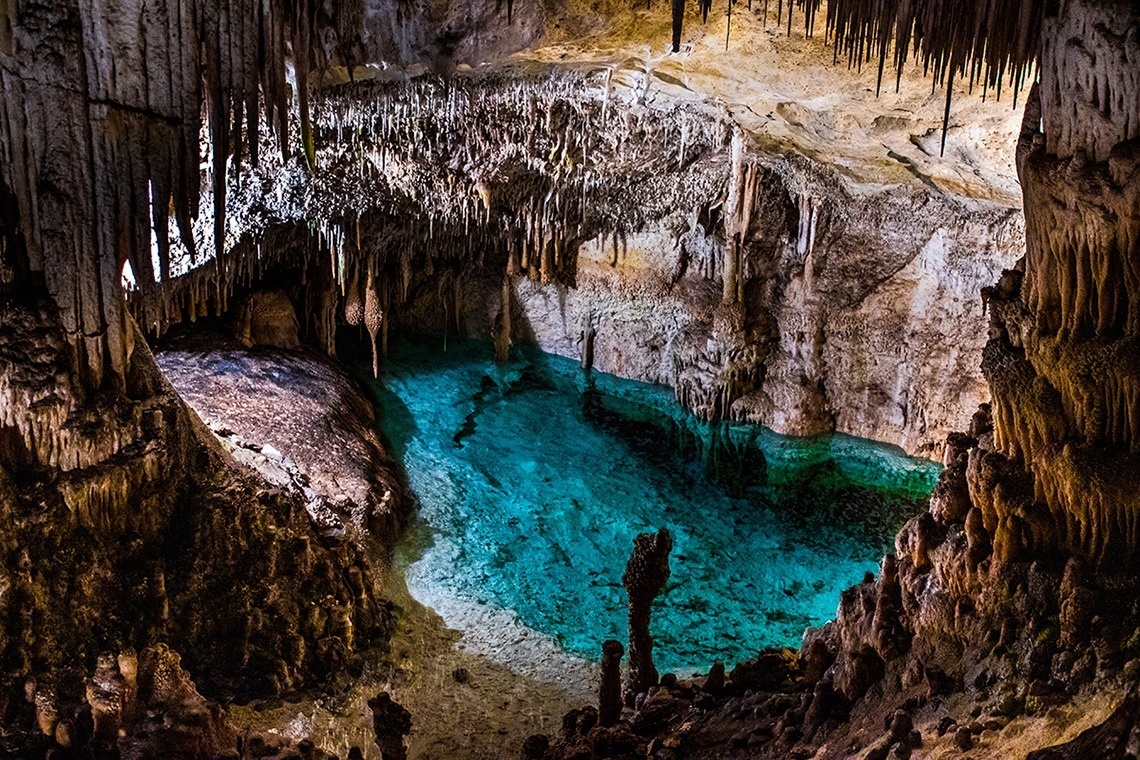 Caves of Drach
The coves of Mallorca
If you are one of those looking for tranquility and natural beauty, you cannot miss visiting the coves of
Cala Pi
and
Cala d'Or
. These hidden gems on the Majorcan coast are the perfect paradise for those who want to relax under the Spanish sun.
Cala Pi, with its rustic charm and crystal clear waters, is an
idyllic place
where you can enjoy a quiet day by the sea. This small corner of Mallorca will allow you to disconnect from the tourist bustle while you take a dip in its turquoise waters or sunbathe on its fine white sand. On the other hand, Cala d'Or is known for its elegance and sophistication. Its beaches are famous for their
calm, clear waters
, ideal for snorkeling. In addition, its marina is full of chic restaurants and shops where you can enjoy a delicious meal or do some shopping.
Formentor Cap
Often described as the point where the mountains meet the sea, Cap de Formentor is a nature lover's paradise. This viewpoint offers
panoramic views of the sea
that will leave you breathless. From the
Formentor Lighthouse
you can enjoy an absolutely stunning view of the Mediterranean and the rocky coast of Mallorca.
The road to the lighthouse is an adventure in itself, with sharp curves that you can do on foot or by car. In fact, if you are a
fan of hiking
, you will find several trails that will allow you to explore the area on foot and enjoy its natural beauty even more.
Your accommodation to discover the towns of the Mallorcan Coast
After a day full of adventures in Mallorca, at
ONA Hotels & Apartments
we offer the best rest in our hotels and apartments. We have
apartments in Cala Pi
,
apartments in Cala d'Or
,
apartments in Puerto de Alcúdia
and
apartments in Alcúdia
, near the best
places to see in Mallorca
.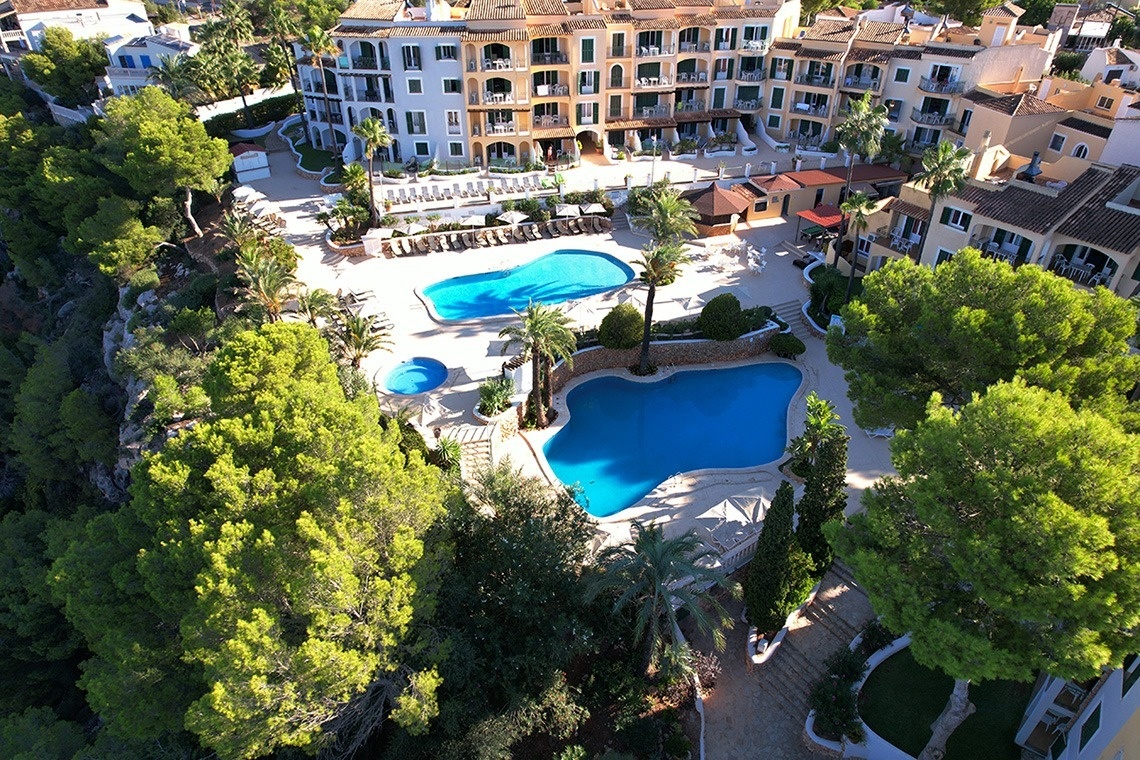 Ona Cala Pi
Book your stay at Ona Hotels!
Comments