Murcia apartments Ona Marina Arpón
If you're looking for a Mar Menor holiday rental ,  to spend a few days making unforgettable memories with your family  in front of one of the most peaceful beaches in the country, look no further than the Ona Marina Arpón.

When you stay at our apartments to rent in La Manga, a beautiful town facing the Mar Menor, you get to enjoy the many advantages of having the largest coastal saltwater lagoon in Spain at your feet, including:

• 42 km of uncrowded beaches: our fantastic holiday apartments are just 5 minutes from the calm waters of the Mar Menor.

• An exceptional climate: benefitting from an average annual temperature of 20 degrees and 320 days of sunshine a year, hotels in La Manga, Murcia, are the perfect destination for families who like to enjoy the great outdoors all year round.

• All the activities you could wish for: the endless selection of activities on offer in the Mar Menor means it's almost impossible to get bored - the only problem is choosing between them! Snorkelling, golf, windsurfing, scuba diving… At the Ona Marina Arpón apartments to rent in La Manga, we take care of the organisation, so all you have to do is enjoy yourself!

As you can see, La Manga is one of the most attractive destinations in the country. A peaceful and beautiful part of the world where you can enjoy quality time with your family in your Mar Menor holiday rentals in this privileged corner of the Mediterranean coast.

Your Mar Menor holiday rental apartments at Ona Marina Arpón, Murcia

Located in the region of Murcia, the La Manga apartment complex is ideally situated close to the beach in the town of La Manga, in a peaceful residential area of the Arpón urbanisation.

Our apartments to rent in La Manga sleep up to 4 people, with 1 bedroom, a living room (with sofa bed) and a bathroom. They are fully equipped with everything you need to feel at home: TV, fridge, microwave, kitchenware and utensils... as well as an inviting swimming pool to cool off in after a hot day at the beach.

Want to surprise someone special? Ona Marina Arpón offers the perfect accommodation for a weekend getaway for two  Enjoy your holiday with someone special and let Ona Hotels take care of all the details for an unforgettable romantic break.

Activities to enjoy during your stay at La Manga

At Ona Hotels, we want you to get the most out of your beach holiday, so here are just some of the experiences you can look forward to when you stay with us.

Hotels in La Manga have access to all the ingredients for an unbeatable holiday: a casino, restaurants, golf courses, parks for the little ones...

And if that's not enough to keep you occupied, the Mar Menor is the perfect destination for water sports lovers. The reliable breezes make it a top location for windsurfing and kitesurfing and gliding over the calm waters on a sailing boat is one of life's real pleasures.

Other options include a pleasant kayak excursion to some of the most beautiful parts of the Mar Menor, such as the town of Los Alcázares with its urban art. And, if paddling doesn't appeal, you can indulge that desire to power over the waves on a jet ski. It's a great feeling, we can assure you!

If you're looking for a more adventurous weekend getaway a   how about trying your hand at scuba diving to explore the seabed? What better place for a try-dive than a sea as calm and unique as this one? And if you'd rather stay on the surface, you can grab a mask and snorkel and discover the incredible underwater views at Cabo de Palos.

Back on land, the Calblanque natural park, which is just 10 km away and easily accessible by public transport, offers fantastic hikes through a scenic landscape of volcanic rock cliffs and soft sandy beaches.
Services
Beachfront
Family apartments
Swimming pool
CHOOSE YOUR IDEAL APARTMENT
1-Bedroom Apartment (up to 4 people)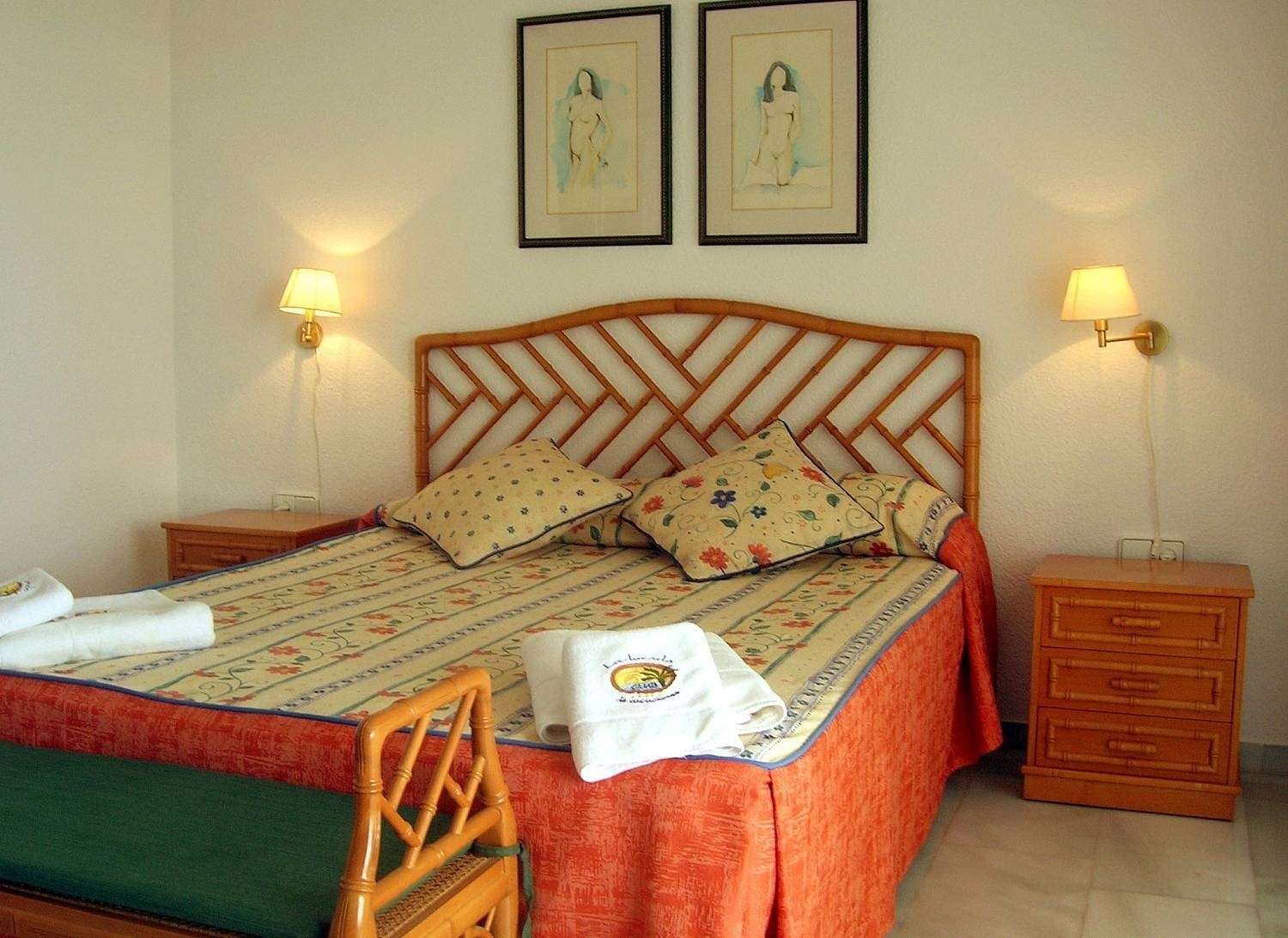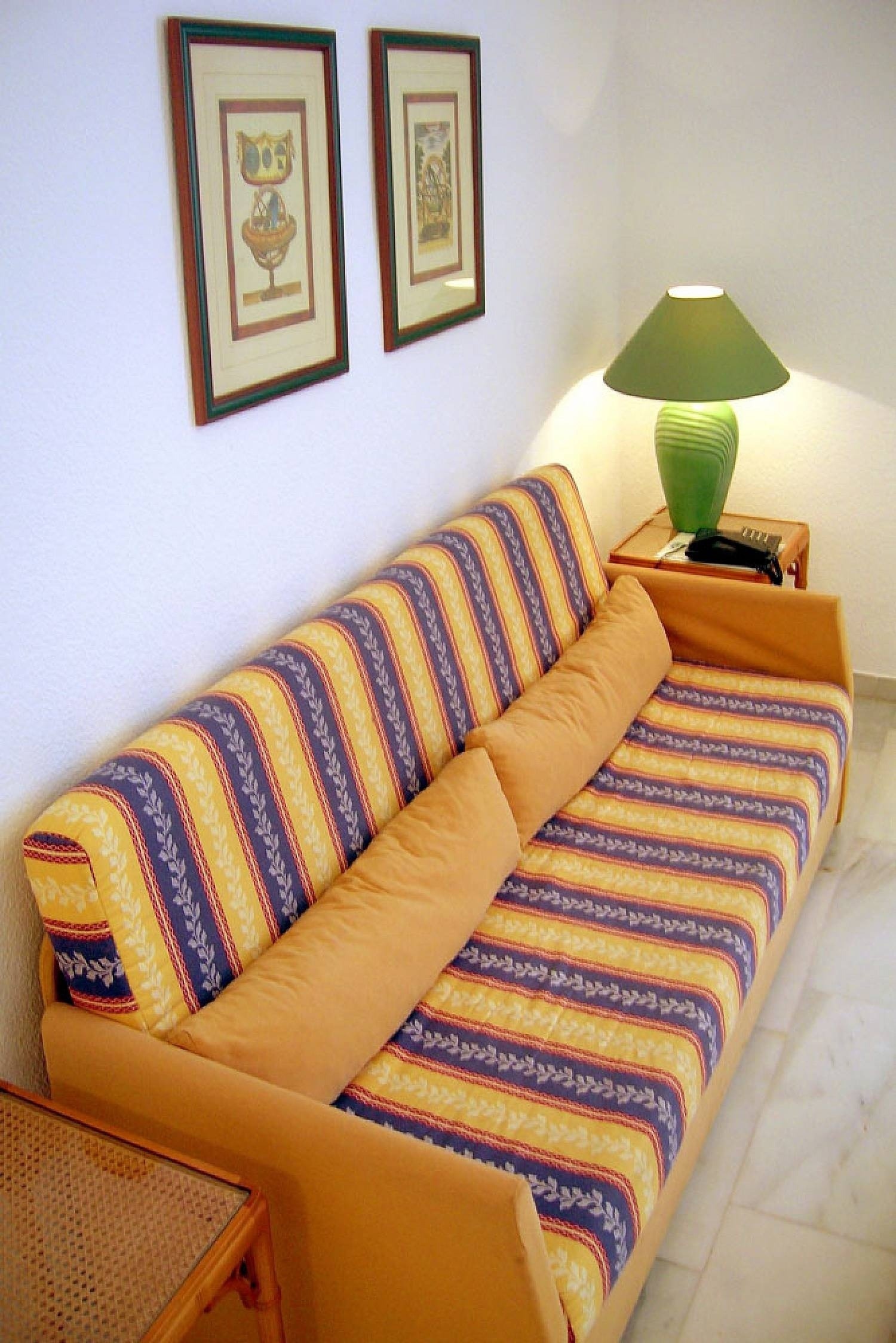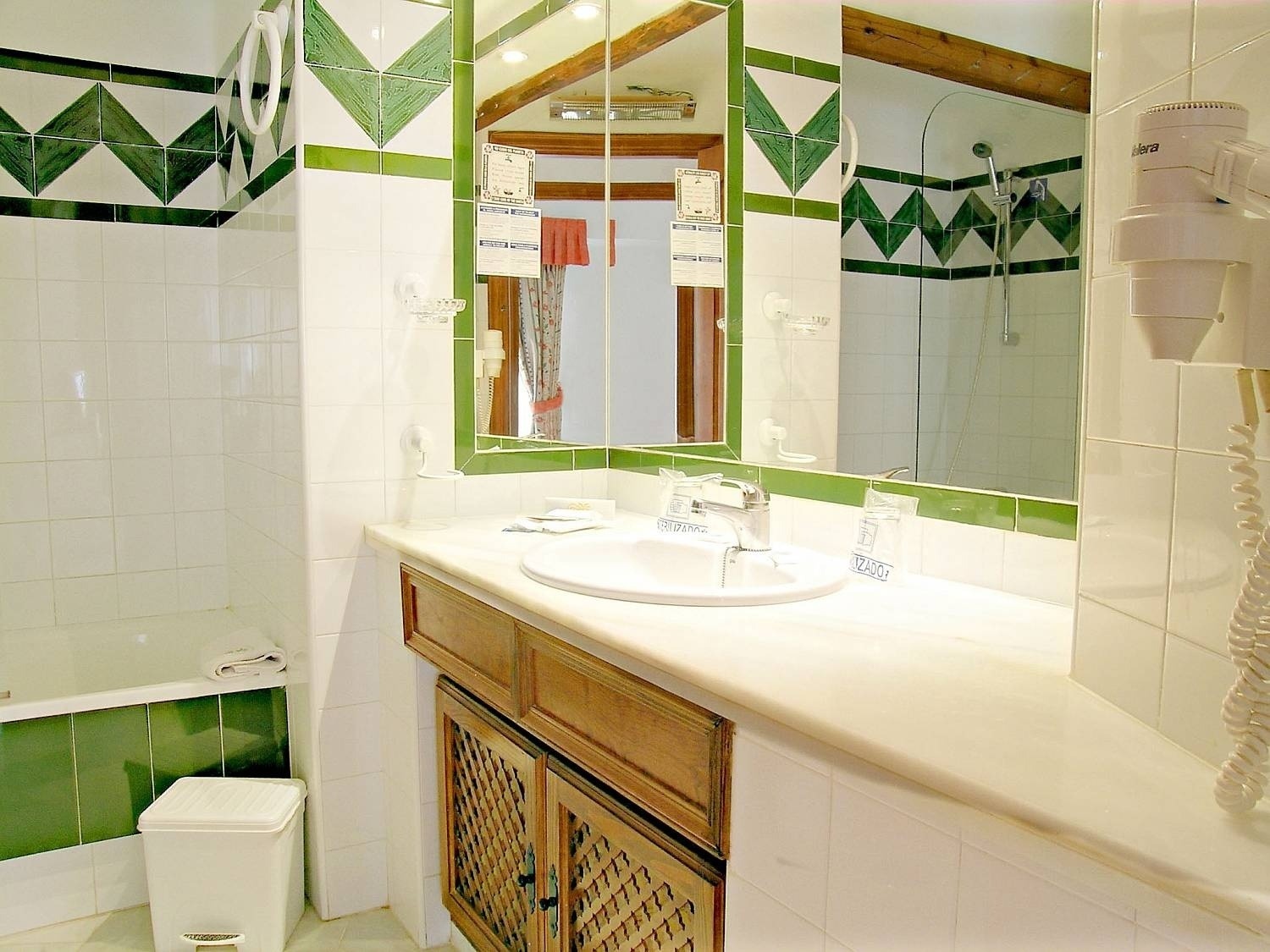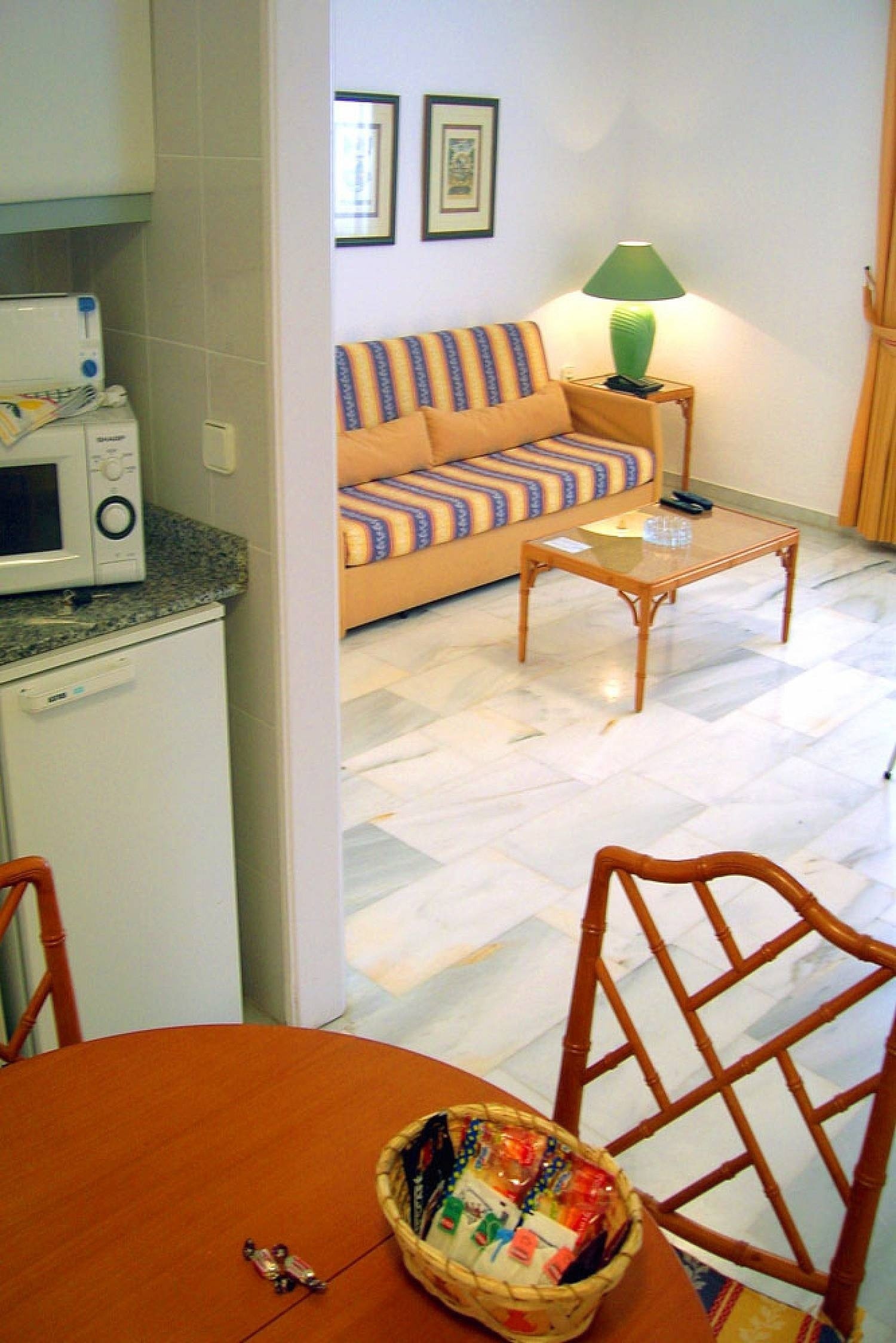 1-Bedroom Apartment (up to 4 people)
Max: 4

30 m2

1 bathroom

1 bedroom + living room
1-bedroom apartment for up to 4 people with a bedroom with double bed, living room with sofa bed, equipped kitchen, air conditioning, private bathroom, hairdryer, iron, satellite TV, and a balcony or terrace.
TV ·
Refrigerator ·
Microwave ·
Kitchenware ·
Kitchen utensils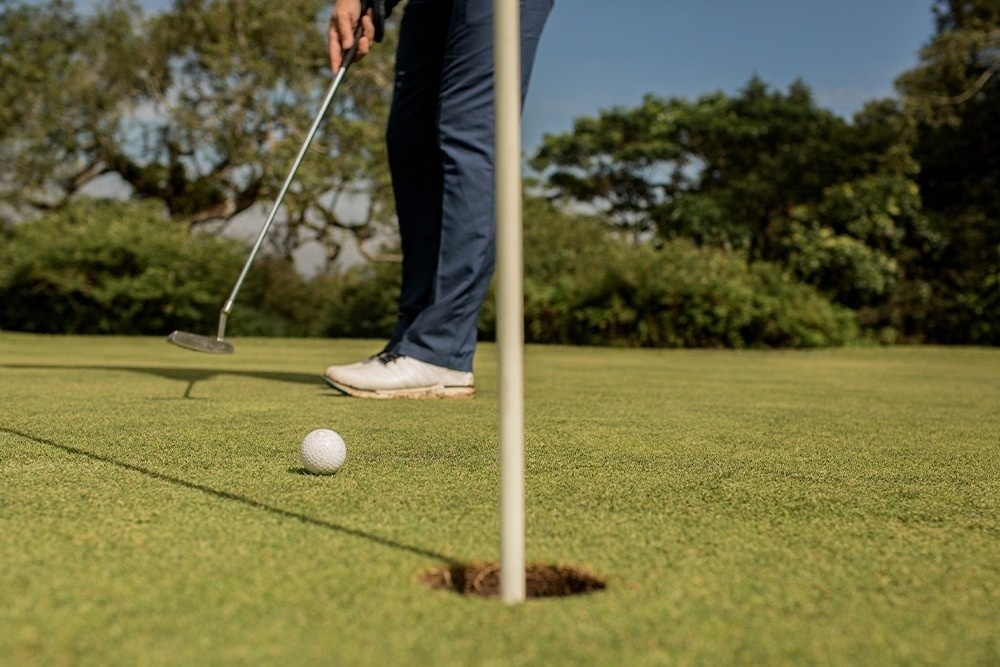 Golf
Enjoy your favorite sport during your visit. Sun, a great temperature and a Green, the perfect plan!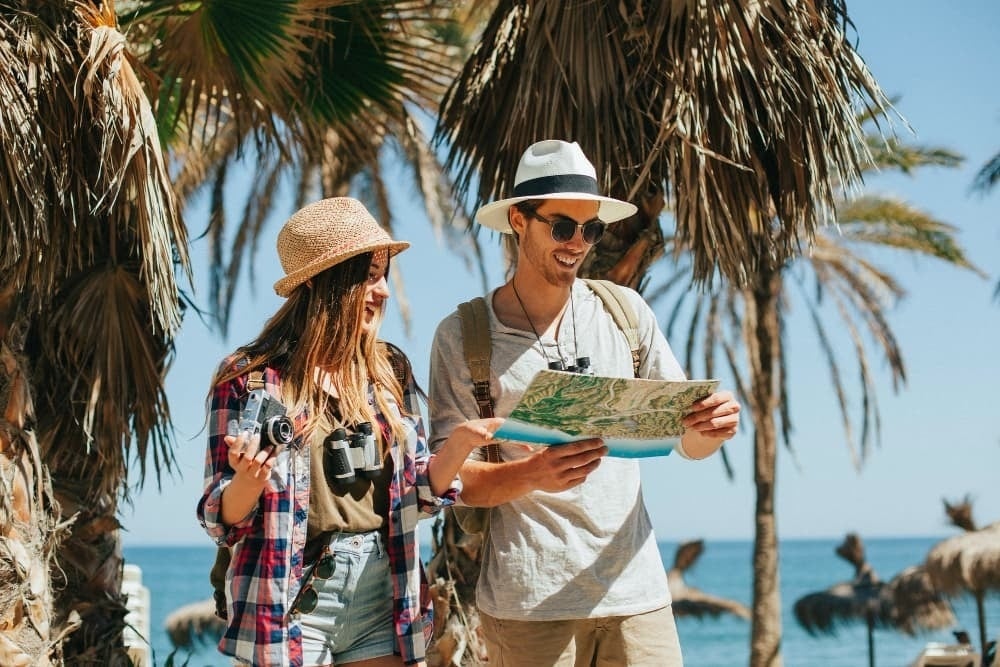 Excursions
Cultural information and sale of tickets to shows.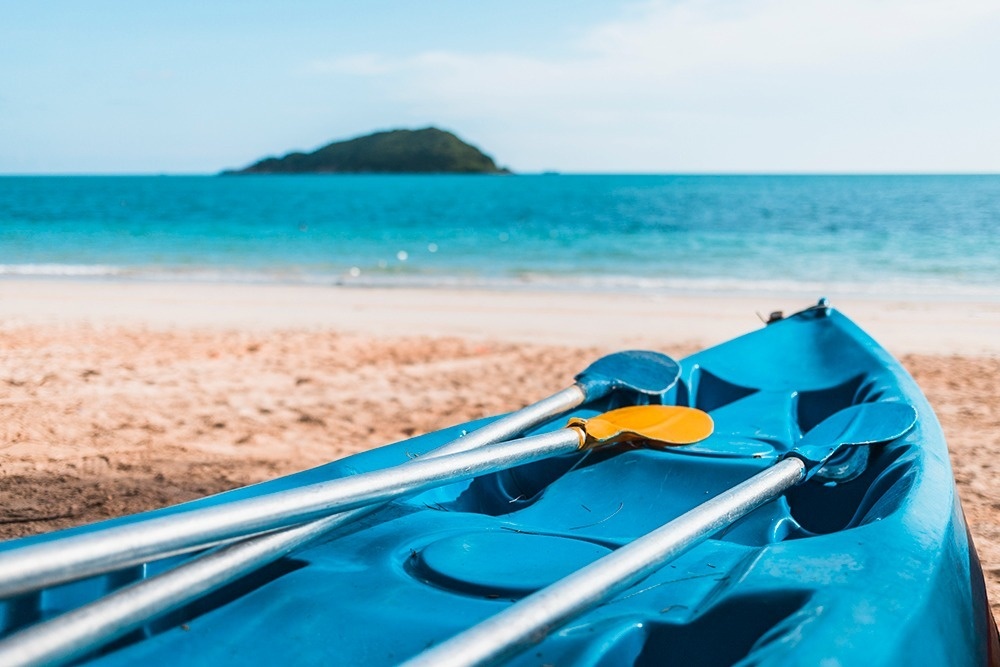 Water Sport
The Mar Menor is ideal for fans of water sports, water skiing, scuba diving, canoeing, kayaking...