Salou apartments Ona Jardines Paraisol
A seafront hotel on the Costa Dorada makes for a memorable holiday destination, and if you're looking for an apartment or hotel in Salou, the Ona Jardines Paraisol offers top quality accommodation in a seaside town that's perfect for a beach break, family holiday or a romantic weekend away.

Our Salou apartments are just a short distance from Tarragona, in the heart of the Costa Dorada. The resort, home to the world-famous Port Aventura theme park, is blessed with unbeatable golden beaches, a wide selection of leisure options and an enviable climate.

Your holiday at Ona Jardines Paraisol

This magnificent Salou apartment complex is in the centre of the town, just 15 minutes from Ponent beach and the marina. It features one and two-bedroom apartments for four to six guests and has a large garden with a swimming pool and waterfall, creating a wonderful ambience for your stay.

Located in a residential area in the centre of this vibrant Tarragona resort, the Ona Jardines Paraisol is within easy reach of restaurants, cafes, and shops. At Ona Hotels, we believe your holiday starts with your accommodation, so we take care of every last detail, including finding the perfect location for your apartment in Salou.

If you're looking for maximum comfort and well-being, Ona Jardines Paraisol offers one and two-bedroom apartments with a full bathroom, a well-equipped kitchen, accommodation for up to six guests and a bright terrace overlooking the pool and gardens that's ideal for al-fresco snacks or a refreshing aperitif after a day of activities on the beach.

Activities to enjoy from your apartment at Ona Jardines Paraisol

Salou has something for everyone! There's entertainment for the youngest, relaxation for all, hiking trails, cultural tourism, and even a world-class theme park. So rent an apartment in Salou for a sensational holiday, and rest assured that Ona will be on hand to help you discover all the resort has to offer.

Let's start with the beaches. The town has fourteen kilometres of coastline, with nine beaches. The two closest to your Ona Jardines Paraisol Salou hotel are Ponent and Pilons, but if you explore further afield, you'll be amazed at the secluded coves and little-visited beaches you can find.

If you fancy a picturesque stroll, the Camí de Ronda is a 5.5 km long coastal path that offers spectacular panoramic views of the sea and resort centre. We highly recommend you walk to the lighthouse.

In the evenings, enjoy the lively Paseo Jaume I. Take a leisurely stroll, stop for a soft drink, ice cream or something stronger and admire the ornamental fountains as the sea breeze cools the day.

Another experience that should be at the top of your list is a visit to Ferrari Land and Port Aventura, one of the leading theme parks in Europe with attractions for all, incredible shows, and plenty of options for a bite to eat... Port Aventura makes for an unforgettable day out with your partner, family or friends!

After a busy day, finding somewhere to eat will be no problem at all because Salou has culinary options to cater to all tastes, from local dishes to Asian specialities and international fast food. There's even a Michelin-starred restaurant!

What's more, and just as a beach destination should be, Salou is a popular sports destination with excellent facilities: tennis, golf, running, sailing, water sports... just take your pick!

The golden sands of the Costa Dorada offer an unbeatable destination for a seafront holiday within easy reach of Tarragona and just one hour from Barcelona. So, if sunshine, beach time and sports in attractive natural surroundings sound like the perfect holiday for you, it's time to book your hotel in Salou!
Services
Wifi (€ 5/day)
Swimming pool
Tourist information
Family apartments
Bike rental
Air conditioning
Children's pool
Garden
CHOOSE YOUR IDEAL APARTMENT
1-Bedroom Apartment (Up to 4 people)
1-Bedroom Apartment (Up to 2 people)
2-Bedroom Apartment (Up to 6 people)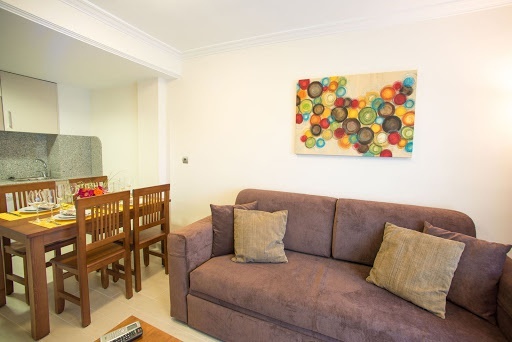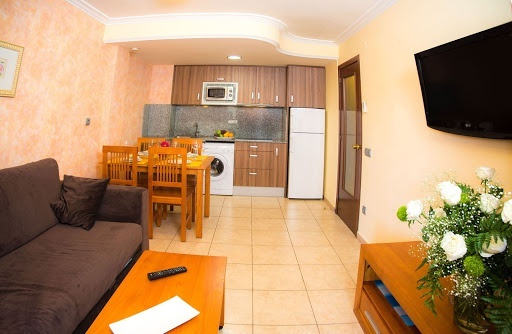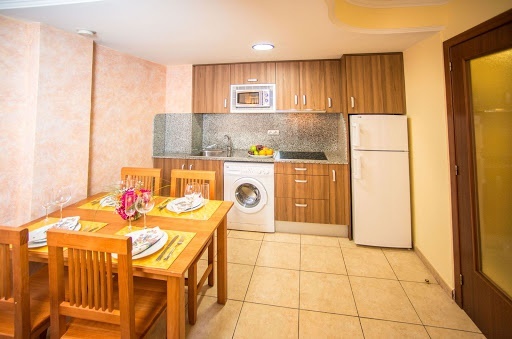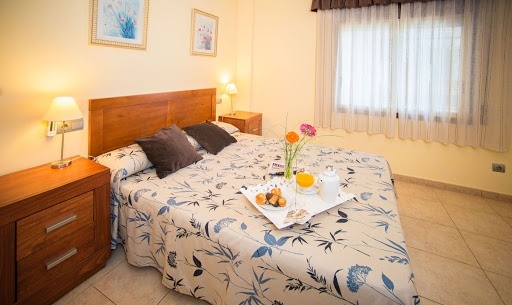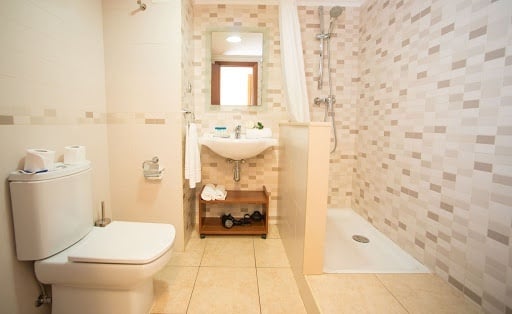 1-Bedroom Apartment (Up to 4 people)
Max: 4

40 m2

1 bathroom

1 bedroom + living room
Apartment for up to 4 people with 1 bedroom, living room, equipped kitchen, air conditioning, private bathroom, hairdryer, iron, satellite TV and WIFI (for a fee).

Note: If you want to book an extra bed or a cot, please contact the establishment.
Air conditioning ·
Hair dryer ·
Iron ·
Satellite TV ·
WIFI