What do I have to see on the Costa Brava?
ONA Hotels
05/09/2022
Oh, how wonderful is the Costa Brava!
With its hidden coves, its paradisiacal beaches of fine sand and its cool water, ideal for hot summer days. Its length is 214 km and it extends to the border with France, starting in Blanes and ending in Portbou.
If you are interested in knowing
the things to see and visit on the Costa Brava,
we show you some nearby destinations that you can visit during your stay at our hotel
Ona Palamós
.
Take note!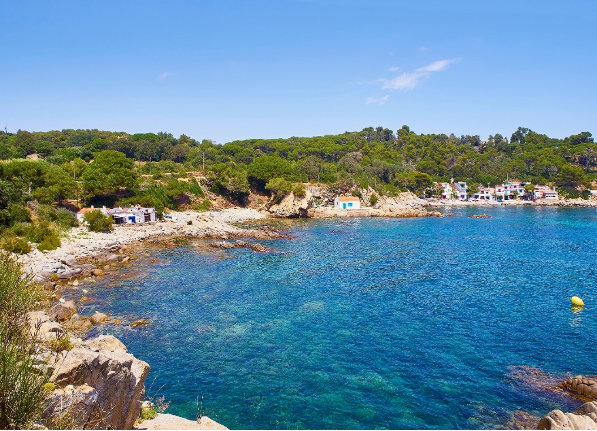 Cala S'Aguer Cove Palamos, Costa Brava
Towns to visit on the Costa Brava
• Calella de Palafrugell
From the city of Palamós to
this old and picturesque fishing village, Calella de Palafrugell
, both in Girona, there are almost 12 kilometres.
Different colored boats shine on the beach under the shelter of white houses defined by their vaults, or arches that allow you to look at the Mediterranean in a different way, even Dalinian.
Its rural areas are fully preserved, ideal for strolling through its narrow streets and discovering its white tiled houses. You can also visit its charming beaches, some of the essential ones to see on the Costa Brava:
El Golfet, Port Bo, En Calau, Port de Malaspina, El Canadell
, among others. They say that the Catalan singer-songwriter Joan Manuel Serrat was inspired by its landscape to write the song "Mediterráneo".
And how do you get there? Through its roads and paths, especially thanks to the Caminos de Ronda that you will find throughout the Costa Brava. A system of paths that border its coast and mountains from Blanes to Portbou, inviting the visitor to take this side of the Mediterranean with calm and contemplation.
• Tamariu
This small town belongs to the municipality of Palafrugell and is located 20 minutes by car from
Ona Palamós
. An excellent option to visit on the Costa Brava if you stay here.
With a quiet and family atmosphere, it is recognized for the quality of its beaches for all kinds of water sports, kayaking and scuba diving.
Platja de Tamariu
is the closest to the town, but
Platja Dels Liris and Cala Aigua Dolça are also very close.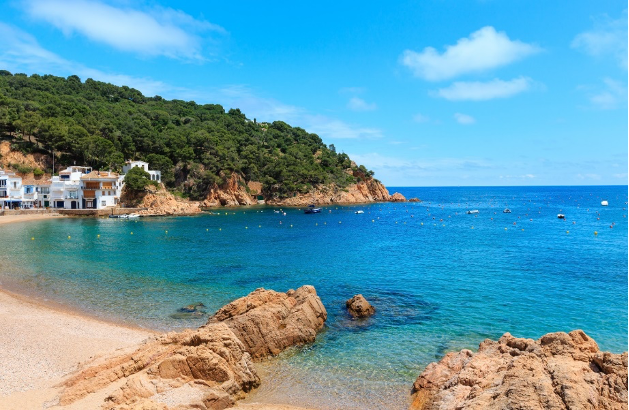 Tamariu beach, tamariu, Costa Brava
• S'Agaró
We move just 15 km south to another of the famous fishing villages of the Costa Brava. S'Agaró is the town that Elizabeth Taylor passed
through during the filming of her film
"Suddenly last summer"
. That mythical image of the actress in a white bathing suit at the end of the 50s on this beach... is already part of the collective imagination of this area.
You can get to know the city of colored booths by doing a free walking tour. For the more adventurous, you can do the Camí de Ronda, which joins the beaches of
Sant Pol and Sa Conca
and its walk lasts only 2 kilometers.
In S'Agaró there is one of the things to see on the Costa Brava that we cannot miss: **
La Taverna del Mar
** with
the table in the window that overlooks the dream sea
.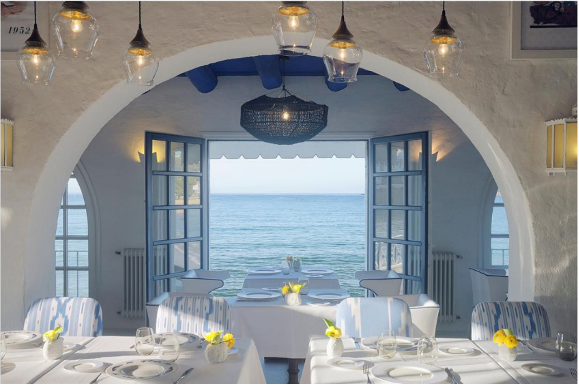 The beautiful views of the Taverna del Mar, S'Agaró, Costa Brava.
• Begur
The town is one of those you have to visit on the Costa Brava because it has everything: sea, mountains and gastronomy. Perfect to travel in a day and only 20 minutes by car.
This city brings together some of the most beautiful beaches to see on the Costa Brava, such as
Platja de Aiguablava, Cala Sa Tuna and Platja de Illa Roja
. In addition, you can discover the views of the
Mirador Carmen Amaya, visit the Church of Sant Pere and Santa Reparada and get to know the Castle of Begur
.
• L'Escala
If driving is not a problem to explore the Costa Brava and get to know its picturesque coastal towns, we suggest you make this stop. The trip takes 45 minutes, but it is totally worth it.
This small town of Greco-Roman ruins has an Old Town by the sea, various natural parks and haute Catalan cuisine,
in addition to its 12 beaches and coves ideal for enjoying with children.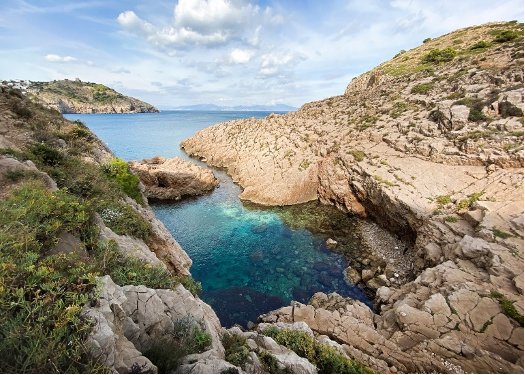 Hidden cove in L'Escala, Costa Brava.
Where to stay on the Costa Brava
This concludes our list of things to see on the Costa Brava. And if you are also wondering which is the best place to stay on the Costa Brava… Without a doubt, we encourage you to discover all these magnificent places by staying at
Ona Palamós
. See you soon?
We hope that it has conquered you, as much as it has us.
Comments