Magical destinations for your Christmas Vacation
ONA Hotels
31/10/2023
The Christmas holidays are a special time to share with family and surround yourself with the beauty and charm of unique places. If you are looking for
destinations
that allow you to experience the magic of Christmas, relax in the warm winter sun or enjoy exciting outdoor activities, you are in the right place. Here we present a selection of dream destinations for your Christmas holidays, along with hotel recommendations from
Ona Hotels & Apartments.
1. Torrevieja, Alicante
Torrevieja, on Alicante's beautiful Costa Blanca, is an exceptional holiday destination during Christmas. The city lights up with festive lights, and you can enjoy Christmas markets and local festivals. The Hotel
Ona Aldea del Mar
is an excellent option to stay, with first-class amenities and very close to the beach.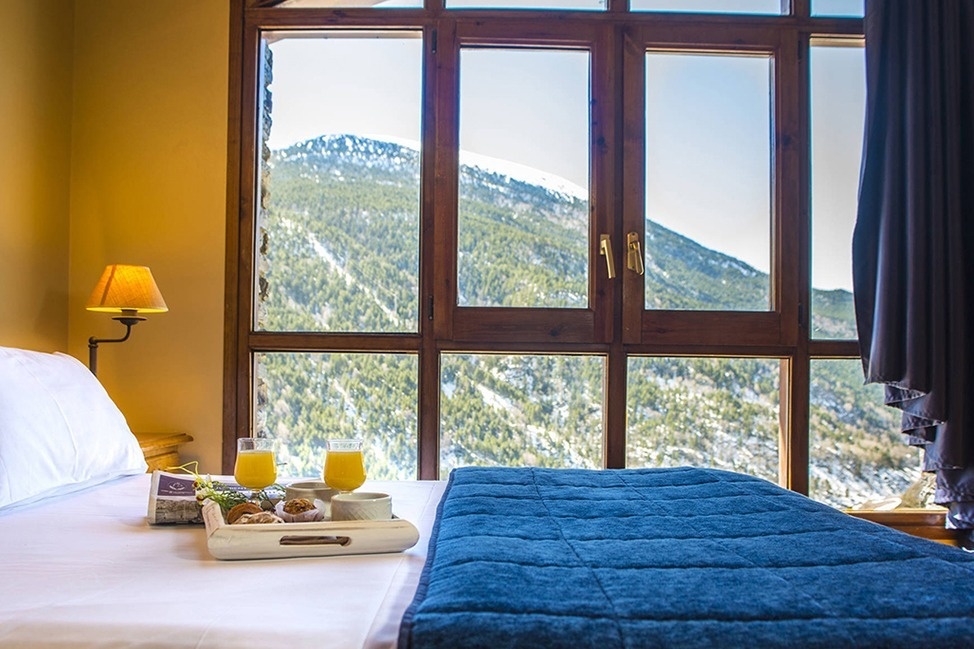 Double room in Ona Dorada El Tarter, Andorra
2. Andorra
If you dream of a more alpine atmosphere during the holidays, Andorra is your perfect choice. Surrounded by majestic snow-capped mountains, Andorra offers a wide variety of winter sports and activities for the whole family. The Hotel
Ona Dorada El Tarter
is a cozy place where you can rest after a day full of fun in the snow.
3. Barcelona
Barcelona, the Catalan capital, is a magical place at any time of the year, and Christmas is no exception. The city is filled with lights, Christmas markets and celebrations in every corner. Both the
Ona Living Barcelona
apartments, as well as the
Mosaic
and
Casa Lit
hotels, will give you the comfort of feeling at home in the heart of this vibrant metropolis.
4. Tenerife
If you prefer a Christmas in the sun, Tenerife is a perfect destination. This island in the Canary Islands offers you a pleasant climate all year round, golden beaches and an exciting nightlife. Here we have several options! In the Los Cristianos area, you'll find
Ona Los Claveles
,
Beverly Hill Heights
,
Hollywood Mirage
, and
The Suites by Beverly Hills
. At the foot of Playa de Troya, is our
Palm Beach Tenerife
. On the way to Callao Salvaje,
Ona Sueño Azul
is located. And finally, very close to the Los Gigantes Cliff, you can stay at
Ona Las Rosas
and
Ona El Marqués
. A world of possibilities!
5. Lanzarote
Another Canarian gem to enjoy a Christmas holiday is Lanzarote. With its unique volcanic landscape, white sand beaches and crystal clear waters, Lanzarote is a paradise for sun lovers. The
Ona Las Casitas
and
Ona Las Brisas
hotels are located a few meters from Playa Blanca, being ideal options for beach fans.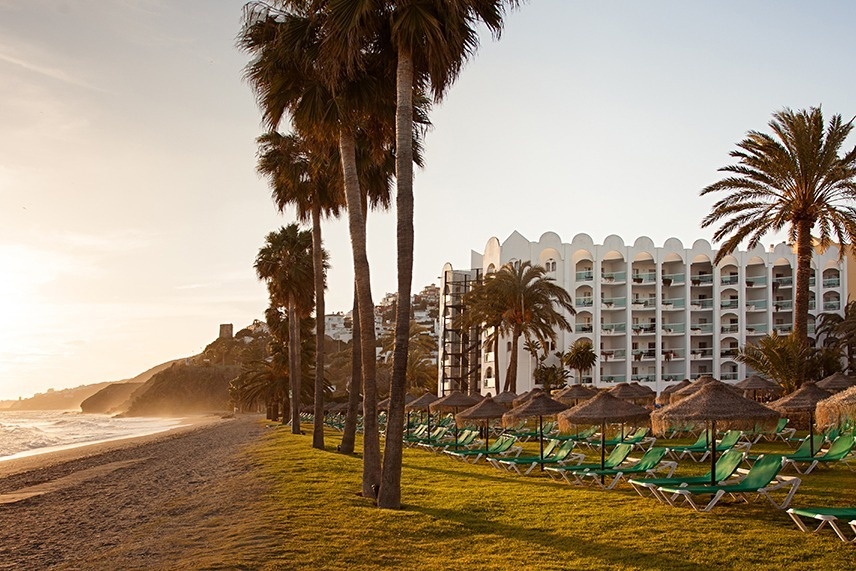 Ona Marinas Beach in Nerja
6. Costa del Sol
The Costa del Sol in Andalusia is famous for its mild climate, golden beaches and beautiful golf courses. Enjoy a relaxed atmosphere and a wide variety of activities, from exploring picturesque white villages to sampling delicious local cuisine. You can stay at
Ona Campanario
, located in Calahonda. Or perhaps spend a few days in Marbella, visiting
Ona Alanda
or
Ona Marbella Inn
. Near the Casa Sola Tower, you can stay at
Ona Club Bena Vista
. If you are looking for an all-inclusive stay, your option is without a doubt
Ona Marinas de Nerja
. And as a last recommendation, get away from the city in
Ona Valle Romano
, located in Estepona.
7. Murcia
Murcia is a little-known gem in the southeast of Spain. With its rich history, impressive architecture and tranquil atmosphere, it is the perfect place for those looking to escape the hustle and bustle of big cities on vacation. If your plan is to disconnect, the ideal option would be
Ona Hacienda del Álamo
. If you prefer to be closer to the beach, then have
Ona Las Lomas
and
Ona Mar Menor
.
8. Gran Canaria
If you are looking for a tropical paradise during Christmas, Gran Canaria is the ideal place. With its warm climate and golden beaches, this Canary Island is perfect for a holiday of sun and fun. The
Bahía Blanca Hotel
offers you an unforgettable stay in this corner of paradise.
9. Majorca
Mallorca, the Balearic island, offers a perfect combination of dream beaches and a rich cultural heritage. At Christmas, the island is filled with traditional celebrations and festive lights. The
Ona Aucanada
Hotel is a perfect place to stay and explore the charms of Mallorca.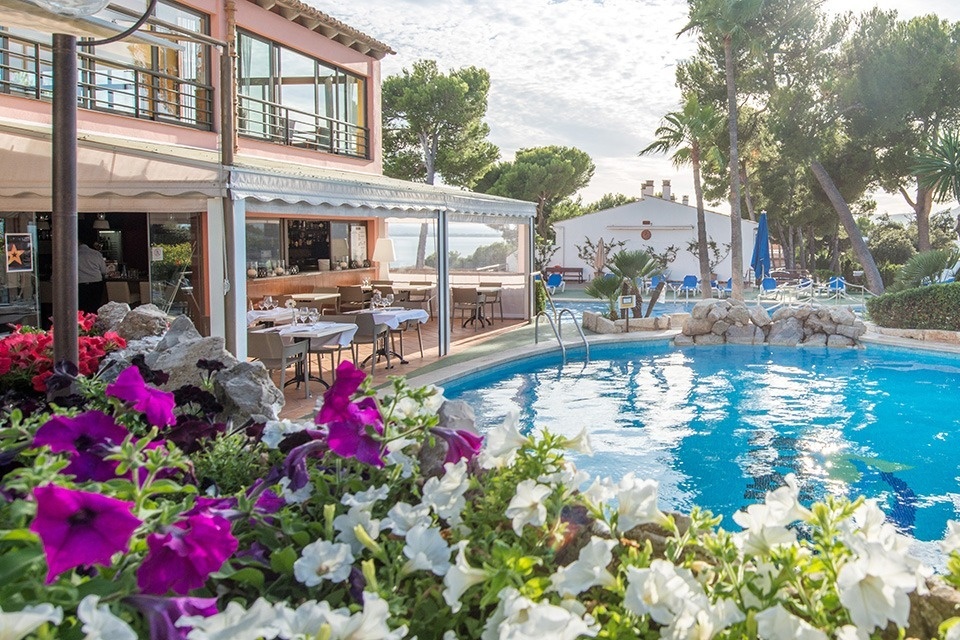 Gardens and swimming pool of Ona Aucanada
Each of these destinations has something special to offer during Christmas. Whether you're looking for snow, sun, culture or just a relaxing atmosphere for your vacation, these destinations will provide you with unforgettable memories.
The Christmas holidays are a perfect occasion to recharge your batteries and create unforgettable moments with your loved ones. So choose your destination and get ready to live a magical vacation in one of these spectacular places! Book your accommodation at
Ona Hotels & Apartments
.
Comments